NIH'S Dr. Deffenbach shares final update from AIDS 2016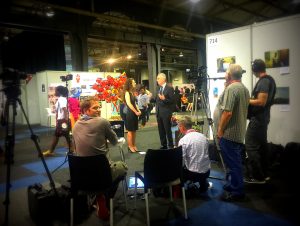 In his third and final update from the International AIDS Conference (AIDS 2016) Exit Disclaimer in Durban, South Africa, NIH's Dr. Carl Dieffenbach discussed highlights of ongoing HIV cure research presented at the conference. Dr. Dieffenbach, the Director of the Division of AIDS at NIH's National Institute of Allergy and Infectious Diseases (NIAID), spoke with his colleague Anne Rancourt via Facebook Live.
Their discussion focused on the status of ongoing HIV cure research and some of the discussions around it at the conference. They also responded to several questions from viewers of their three Facebook Live events from the conference. They concluded with thoughts on the effects of stigma.